Before we left in June, I started researching pin trading. For years, I'd seen the stands, but thought nothing of it. I figured the pins were just another way for the Disney Co. to make more money. Which it is.
But
, that didn't stop us from starting a collection.
For those who don't know, for around 10 years now, Disney has made pins for sale and trade. They have basic pins, documenting almost any character you could think of - though after searching and asking
every
cast member I saw, I couldn't find a
Thumper
. There is actually
official etiquette
you can read to see all of the "rules," though they are quite simple: Start off with your own pins, find cast members with other pins, ask for a trade!
Pretty much every cast member is supposed to wear pins daily. They are supplied by the parks, so don't feel bad about trading a cheap pin for a nicer pin. That's what you're
supposed
to do! I have to admit, in June, I didn't see any cast members with any fancy pins - no spinners or dangles, but I did find a few that were great to
me.
And, that really is the entire point of trading.
As soon as we reached our resort, we went to the small store there and bought a lanyard and starter kit - 5 or 6 small, generic pins. Ours had an assortment - Peter Pan, the Genie from Aladdin, and several others I can''t remember, because we traded them ALL. We bought a few to commemorate the trip including a "My First Trip" for Noah.
The best place to find pins is at Downtown Disney. There is a shop that sells only pins and they have the best collection. However, there are smaller kiosks in all of the parks and all of the gift shops have a few. But, the most fun is trading with cast members. Sometimes, they even make it a game and try to compete with each other to get you to trade with them. If you see a cast member with a green lanyard, he will only trade with young children, so adults can look but can't trade. I
love
that they even make the game special for kids. Another little hint of magic in the details.
The newest Disney addiction is
Vinylmation
. Something new to collect. But, they kind of freak me out, so I'm not sure I'll ever fall into that addiction, but if you're into Japanese
anime
, those little guys are for you.
My favorite pin of the trip I traded an upper level cast member at Epcot, while we were waiting for our photo op with Minnie and Goofy (Disney Visa Cardholder Experience) is a reminder of so many Disney trips in college: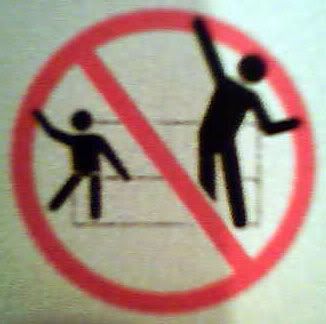 Please keep your hands and arms inside the vehicle at all times!
Have you ever tried pin trading or collecting
Vinylmation
? Do you think this habit is as silly as I do? Silly, but fun :)