I don't normally post on the weekends - I sometimes find it hard enough to be creative 4-5 days a week, so forget about it on the weekends.
But, this weekend is different and I'll explain why at the end. This weekend, I finally finished Lisa Robertson's book, "
Babes in Disneyland
; The ultimate Disneyland Resort guide for families with young children."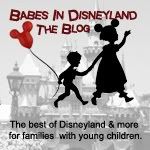 The Babes in
Disneyland blog
was one of the first Disney blogs I found when I started searching and I've always admired the work Lisa does with her blog, for fun and obviously to help tons of people.
Following the premise of her website and blog, this book is filled with knowledge for Disneyland regulars and Disneyland novices, like myself. Having yet to visit the Disneyland Resort - and still terrified of the plane trip with a young one - this book assists in the basics of planning. There is even a list of questions to ask the local hotels that a non-LA person would
never
think to ask (how far is the hotel from the main road. Where else would you consider that question?)
Inside the book, Lisa breaks down the separate parks by land, offering advice on rides suitable for different ages of children, where to eat, shop, rest, nurse, feed, etc... Anything you can think of, including packing lists, is listed in this book.
Plus, as a former Disneyland Cast Member - Guest Services and Tour Guide - we get a lot of insider information, even where the best quite spots for picnics are. As a Walt Disney World regular, I can't even imagine bringing in my own picnic lunch, but I
love
the idea!
There are even portions of the book designated for infants, toddlers, and special needs. I do believe she has covered
everything
in a very portable book and anyone traveling to the parks with young children would find this to come in handy!
Now, you may be wondering why this is special - because, along with
Chip and Company
( and Chip's personal goal to get the
C&C Facebook page
to 5,000 "likes" by the end of July), we are doing a lot of giveaways - and one of them is a copy of this book, sponsored by me!!! I do believe this giveaway will be held at
Couponing to Disney
, so keep your eyes out! I know you'll have to "like" both the C&C facebook page
and
the
Disney Babies Blog
facebook page, so you might as well go ahead and click the little button to like us. It's easy and makes us smile! Go ahead! We'll all be announcing the giveaway as soon as it happens, to make sure to keep reading!
Or, you can simply go ahead and order your copy by clicking on this adorable button or on
Amazon.com
!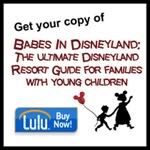 **I was not asked to review this book, nor given one for that purpose. I luckily won my copy in her blogs giveaway and excitedly offered to share my personal opinions.**