It's another Wonderful Wordless Wednesday! If you've hopped over, thanks for stopping by!! If you're a regular, thanks for coming back :) Hope you enjoy!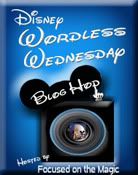 and the Info Mouse blog hop (I can't find their button code!)
the latter, inspired the theme:
Disney's Animal Kingdom
I present to you- a music major/professional band geek at Disney's Animal Kingdom
Near where Flights of Wonder, on a corner in Asia, a Cast Member played an instrument made of bamboo.
The Angklung is considered the "bamboo rattle" and is different than any other instrument I'd ever seen.
She was playing A Small World!
Then I played A Small World!
I'm ready to be apart of the Streetmosphere!