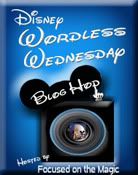 Thanks for stopping by today's "Wordless Wednesday" blog hop! I've turned Wordless Wednesdays into my excuse to show off my pictures of the famous windows of Walt Disney World. Today's theme:
The Emporium
Main Street, U.S.A
In the middle windows, you'll see "Super Structures Inc." in the top. Seemed random, so I looked it up!
Definition of Super Structure: That part of the building which is constructed above the ground level is known as super structure. Walls, roof, floor, veranda , doors and windows are examples of Super Structure.
Below Super Structure is:
Don Edgren

- Engineer hired to help build Disneyland - genius behind The Matterhorn as well as Pirates
John Wise

- Engineer with Edgren's firm before joining WED
Left Window and Right Windows:
Morrie Houser

- Imagineer from 1954, helped with both parks and the Lily Belle
Lou Jennings

- WED Imagineer
John Joyce

- WED Imagineer
Ken Klug

- WED Imagineer who helped with WDW
Stan Maslak

- WED - helped with the Railway Station at WDW
John Zovich

- worked with Edgren, but also helped with WDW and was VP of Engineering for EPCOT
The 2nd window is more in keeping with the
theme of 1900 Americana (from left to right:
Gramaphone Talking Machines
Offering the Latest and Greatest
Children's Toys and Novelties