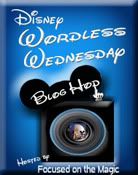 I've decided to take Wordless Wednesdays and turn them into Mostly Wordless Windows Wednesdays. Why? Because I have so many pictures of the WDW Windows and I somehow never get around to posting them!
If I use too many words, please excuse me. I've always gotten myself in trouble for chatting too much!
2 of the clever windows in Hollywood Studios (almost typed MGM!)
In reference to Disney's 1988 movie, Who Framed Roger Rabbit
Next time you're at Disney's Hollywood Studios, head over towards Echo Lake. Above the Hollywood and Vine, I noticed these!