Welcome to those of you joining me from
The CanaDisney Blog
and those of you just hopping aboard. I am the 3rd stop on our Magical Blogorail.
When Disney first announced that 2013 would be the year of "Limited Time Magic," I didn't quite know what to expect. I was ridiculously excited about the prospect of the Dapper Dans singing music from Boy Bands. You probably can't imagine how excited I was when I realized that our week in the parks was Boy Band week.
But, the real questions is - what would I do if I could plan my own Limited Time Magic?
I would make the characters roam the parks. "Ride with Mickey" week or something.
It seems as though the Disneyland characters tend to be more interactive while those at WDW have their "spots" for meet and greets. But, I love seeing those commercials with the characters on the carousel or the barnstormer. Wouldn't that be awesome?
I know the problem - people can't meet guarantee they would get the chance to meet all their characters... though, that might convince more people to do character meals - guarantee to meet Mickey at Tusker House, etc...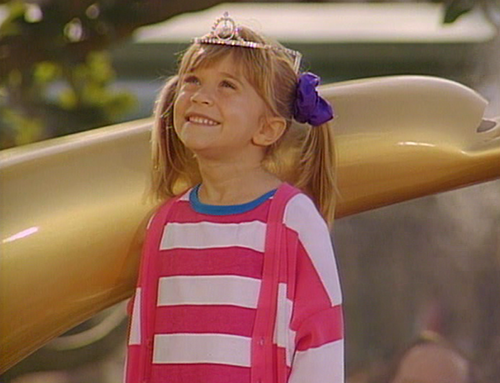 Picture from Full House Wiki
And, while we've got the characters out there, we're bringing back some of the magic that may have only ever been for television but still seems awesome: Prince/Princess of the Day. Remember when Michelle Tanner pulled the sword from the stone and became Princess of the Day? Seriously - how are those two things related. Anyways- I would love for children to have the ability to be in the parades or join in with the Main Street Trolley Show.
I love the idea of the
Family of the Day
, but what if that privilege extended beyond Rope Drop?
Morning Welcome Show
So, it sort of boils down to - let's do Disney Full House style. What do you think?
Thank you for joining me today. Your next stop on the Magical Blogorail Loop is
Days in the Park
.
Here is the map of our Magical Blogorail should you happen to have to make a stop along the way and want to reboard:
**3rd Stop ~ Disney Babies Blog